January is broadly considered the most depressing month of the year. It even contains "Blue Monday", typically the third Monday of the month, which is said to be the most depressing day of the year!
There are plenty of reasons for it: it's cold, it's dark, and summer is but a distant dream. You may well have over-indulged at Christmas and there's a good chance that funds are at an all-time low after spending on gifts and nights out.
How does the general mood in your office feel now, compared to the giddy highs of mid-December? Most people are probably just suffering from the post-Christmas blues, but you could have a few employees who suffer from Seasonal Affective Disorder.
Whatever the cause, below we look at four ways you can help people stay positive, motivated and productive!
Offer Flexibility
We've written about it before, but being flexible with working hours can greatly improve an employee's work-life balance, and therefore their overall level of happiness.
It's great for your business too. Mentioned in most of the reviews in Glass Door's "20 Highest Rated UK Companies for Work-Life Balance" article, flexible working is a key factor in employees scoring their companies highly.
Read more about improving employees' work-life balance in our Work-Life Balance blog post.
Provide Variety in Roles
Take a chance to mix things up a little, have people swap jobs for a few hours, spend some time in different departments or even offer some temporary leadership opportunities. As well as providing a little boost for the employees involved – a break from the monotony – you might also find some stars that aren't shining in their current role, but sparkle brightly in a different area of the business.
Increase the Level of Feedback
It's easy to get caught up in the day-to-day aspects of the job, but letting your staff know that they're doing a good job can have a positive effect on motivation. When was the last time you gave someone a pat on the back?
Feedback works both ways, and another way to increase employee empowerment (and as a result, satisfaction) is to listen to what they have to say. Carrying out an employee engagement survey, or even implementing an office suggestions box gives your employees the chance to contribute to the business in different ways. Just be sure you communicate the results and be prepared to act on at least some of the feedback.
Make Sure People Take Breaks and Get Out!
One of the recommended treatments for Seasonal Effective Disorder is to get outdoors! It's scientifically proven that sunlight produces serotonin, a naturally occurring mood stabiliser which helps regulate your happy hormones. We tend to confine ourselves indoors at this time of year, where it's warm and dry, but coupled with the shortness of the winter day, the amount of sunlight we absorb is minimal. Encourage your staff to get out from behind their desks and take a five minute walk outside.
In Conclusion
A more positive work-force is a more productive work-force, and a happier office is a much nicer place to work. Leave a comment below if you've implemented any innovate happiness controls in your office this year.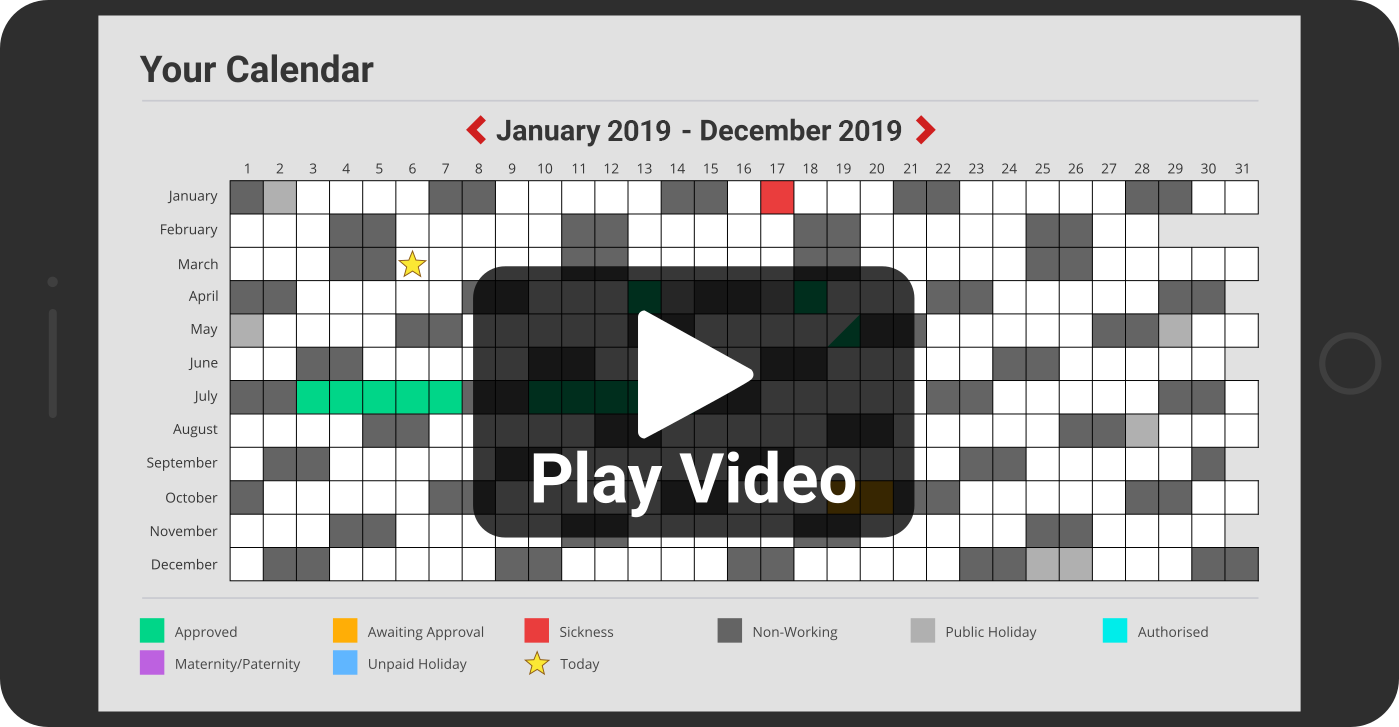 The incredibly simple
employee holiday tracker
If you're currently using paper forms and spreadsheets, then let us show you a better way to manage your employees' annual leave.
Start a 7-Day Free Trial