We've gone live with a collection of updates that improve the way the Audit Log and Entitlement Adjustments work, and we break down the elements that make up an employee's entitlement in the Annual Report.
Audit Log
The audit log contains entries for a whole host of actions performed by and to employees. There's a LOT of data in there, so it's important that there's a useful way to find the data you're looking for. As The Holiday Tracker has evolved over the years, there became more and more Action Types, so trying to filter the audit log to find a specific type meant looking through a long list of types. We've now categorised that list, so you first pick the category you're looking for, such as Absences or Edit Employee, then you're presented with a list of just those action types:
We've also added more detail where appropriate. For example, if your audit log shows that an employee's Personal Information has been edited, you can now click more to see exactly which fields were edited:
More info will only be available for entries going forward, older entries will not contain more info.
Entitlement Adjustments
Previously it was only possible to record a single adjustment per year, so if you needed to adjust an employee's entitlement for multiple reasons, you had to include those in a single value and keep track of why elsewhere.
Now you can have multiple adjustments per year, and can also record the reason for the adjustment:
In addition to that, for those of you that want to track time off in lieu, you can now specify if the adjustment is an adjustment, or if it's time off in lieu:
The time off in lieu value is then shown separately to your employee when they click "How is this Calculated" on their calendar page:
To keep it all manageable, older adjustment records will now be hidden by default, but you can click Show Older Records to see them:
Changes to Annual Report
The Annual Report features a column containing each employee's entitlement for the year. We've now added 5 hidden columns to the left of the entitlement column, containing the various elements that make up this entitlement: base entitlement, days carried over from previous year, entitlement adjustments, time off in lieu, and public holidays adjustments.
When you run the report, the easiest way to unhide these columns is to select columns F > L by clicking and holding the left mouse button on F, dragging the cursor to L and releasing the mouse button. Then make both columns slightly wider or narrower by clicking and dragging the divider between columns L and M. This will cause both columns to be set to the same width, and will also apply that to all of the hidden columns between them: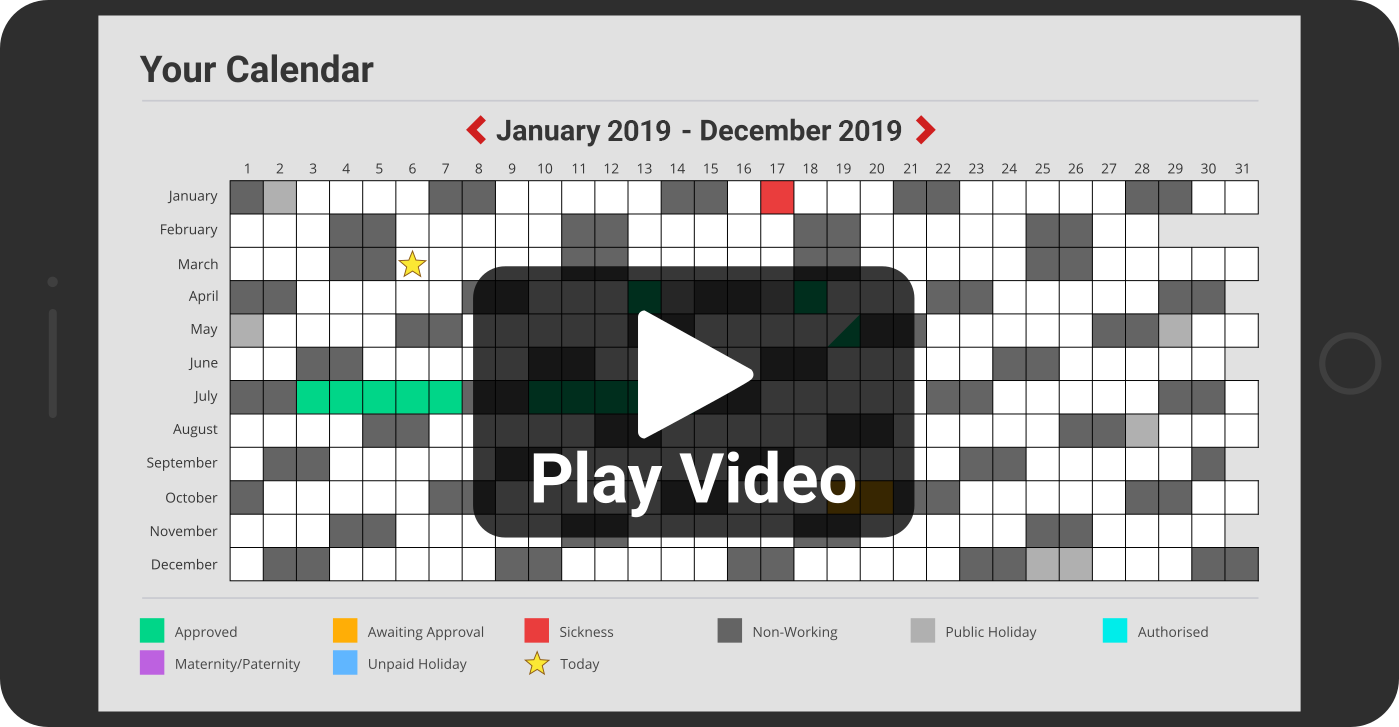 The incredibly simple
employee holiday tracker
If you're currently using paper forms and spreadsheets, then let us show you a better way to manage your employees' annual leave.
Start a 7-Day Free Trial