Social media is a huge part of our lives. It is also a significant part of marketing for a business. What is shared on social media impacts your organisations' brand, public perception and the message you want to convey. So should you be able to control what your staff do on social media when outside of work hours?
In this blog, we'll look at the implications for businesses when it comes to staff actions online. And what you can do to protect your business.
Sharing Personal Views and Politics
It may seem to your employees that what they do on their own time has nothing to do with their employer. However, the online world seeps into our lives in such a way that what your staff post can and will have an impact on your business.
While you cannot influence personal views, you can create social media policies for staff that if they express views online that are offensive, they may face repercussions at work.
Maya Forstater sent a tweet on her personal account expressing her gender-critical views. Her workplace found the tweet to be transphobic and her contract was not renewed. Ms Forstater later won an employment tribunal on appeal. However, this case shows how personal views shared on social media can impact a person's employment.
The BBC has taken a tough stance on staff and contractors sharing political views online. They issued guidance last year that includes not putting disclaimers on posts that it is their personal opinion and not that of their employer. And in extreme circumstances will ask staff to suspend Twitter accounts if they want to continue to work for the organisation.
Risk to Reputation and Job
We only need to look at what happened on social media following the final of the 2020 Euros to see how quickly offensive posts can be linked back to businesses.
Savills, the estate agents, acted swiftly to suspend and investigate an employee who sent racists tweets on the night of the finals. And needed to make a public statement showing their commitment to anti-racism in the workplace.
Companies are expected by members of the public to act when an employee posts offensive content. There is a firm link between what staff do online and the public perception of the business.
Understanding Digital Footprints
Our digital footprints follow us. Younger employees are more aware that what they post online will stay with them for life. Perhaps more than staff members who have not grown up with social media. Even with high privacy settings, historic behaviour can resurface.
Yet, we need to acknowledge that people change and their opinions can change over time. So if an old post does emerge that is less than favourable, it's best to look at it in a wider context of their current behaviours online.
Positive Impacts of Engaging Staff
What staff do on social media need not be negative. There are some hugely positive sides to having engaged employees online. Your marketing and communications teams would love to get staff involved in sharing company posts online. To have staff spread the core messages and why they enjoy working at the company.
Engaging your staff in open conversations about what good looks like for social media behaviour can be helpful.
Influencing What Staff Do on Social Media
So while you may not be able to control what staff do on social media, you can be clear with them that their actions do have consequences for the business and their employment. One of the ways to do this is to have policies that outline your expectations of their online behaviours. And that while they may not be on work time when posting online, they are still representing the business, whether they realise it or not.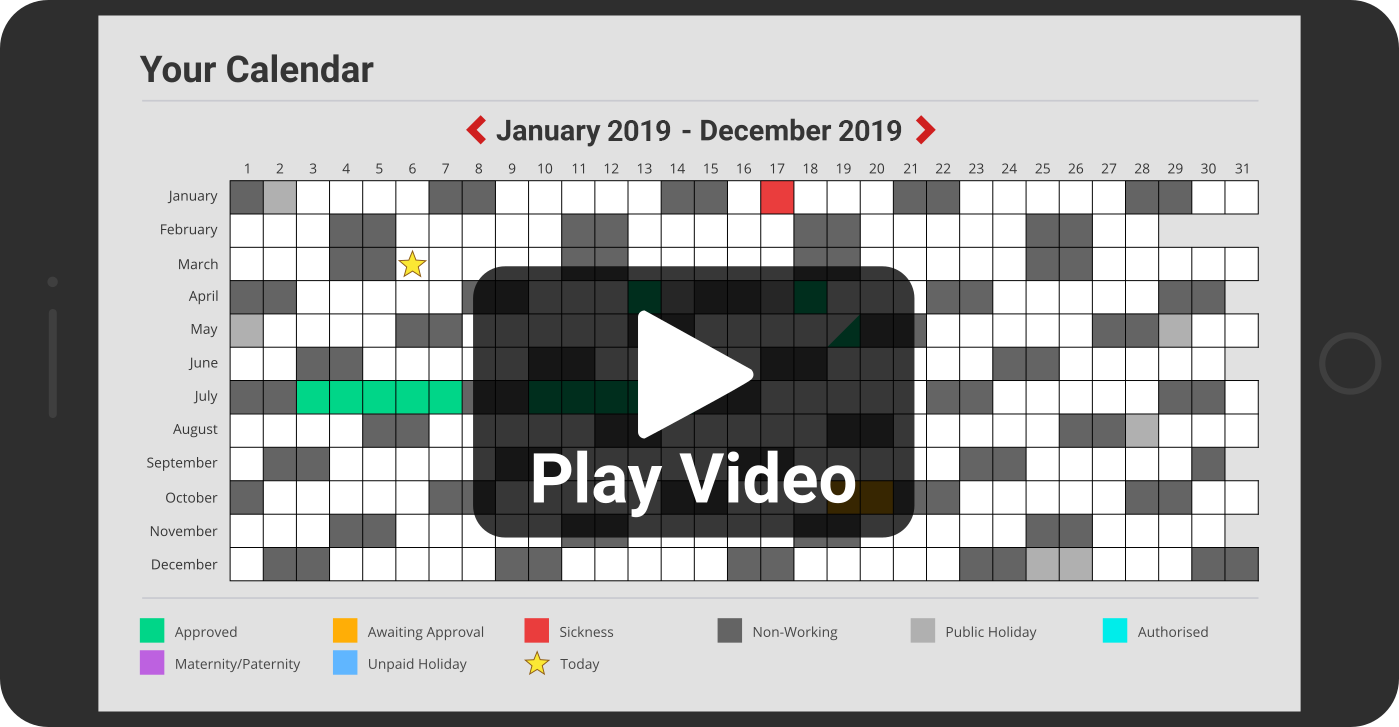 The incredibly simple
employee holiday tracker
If you're currently using paper forms and spreadsheets, then let us show you a better way to manage your employees' annual leave.
Start a 7-Day Free Trial