Photo by rawpixel on Unsplash
Interested in simplifying your holiday process, saving time and hassle at all levels of the business, and reducing your sickness absence to boot? Read on to find out why it could be worth ditching Excel to manage your annual leave.
1. Simplification
You may have it all setup and running in Excel, but it's possibly more complicated, and less reliable than it should be. Your holiday requests are likely done using a paper form or an email;
then you're manually entering them into Excel. Maybe you're keeping sickness details in another Excel document or sheet. You have a manual (and frustrating) system for calculating holiday entitlement for new starters or part-timers, and if someone asks for a custom report on holidays or sickness, then you're stuck wrestling with look-ups and other Excel madness. Sound familiar?
If that describes any of your current process, then consider the benefits of using a system like The Holiday Tracker that's designed from the ground up for the purpose of managing annual leave and other absence. The whole process lives in one secure, robust and auditable system. Holidays, sickness and other absence are all visible in the same calendar; entitlement is automatically calculated for employees, no matter how complicated their works patterns become; and there are a range of simple yet powerful reports you can run at the click of a button.
2. Self-Service
All of your employees are issued with their own login details and can login at any time, on any device to see how much entitlement they have left and make a holiday request. Once your employees realise they can do this on their smartphone from home, then they start booking time-off in their own time!
3. Reduce Sickness
We probably should have lead with this one, but we've kept the best 'til last. By giving you tools to spot trends and better quantify sickness, as well as making an employee's sickness history visible to them, The Holiday Tracker has been shown to reduce sickness absence for most of our customers.
Our Sick Days Heat Maps help you spot any sickness trends, like: does Barry regularly take a Monday off sick?
Each employee's Bradford Factor is automatically calculated for them, helping you better quantify an employee's sickness level. Check out our blog post on the Bradford Factor and how to use it; it's a great way to compare how each employee's sickness is affecting the business.
Finally, because your employees are logging into The Holiday Tracker 10-15 times a year, when they do, they're also being shown their sickness absence history at the same time. Our experience has shown that simply making this information available to people, can affect SOME people's behaviour.
In Conclusion
Why not give our 7-day free trial a go to see how The Holiday Tracker can improve on your current system. If you'd like more in-depth evaluation, then drop us an email and we can arrange for a free 30-day pilot with your whole company or one of your teams. Email us here: support@theholidaytracker.co.uk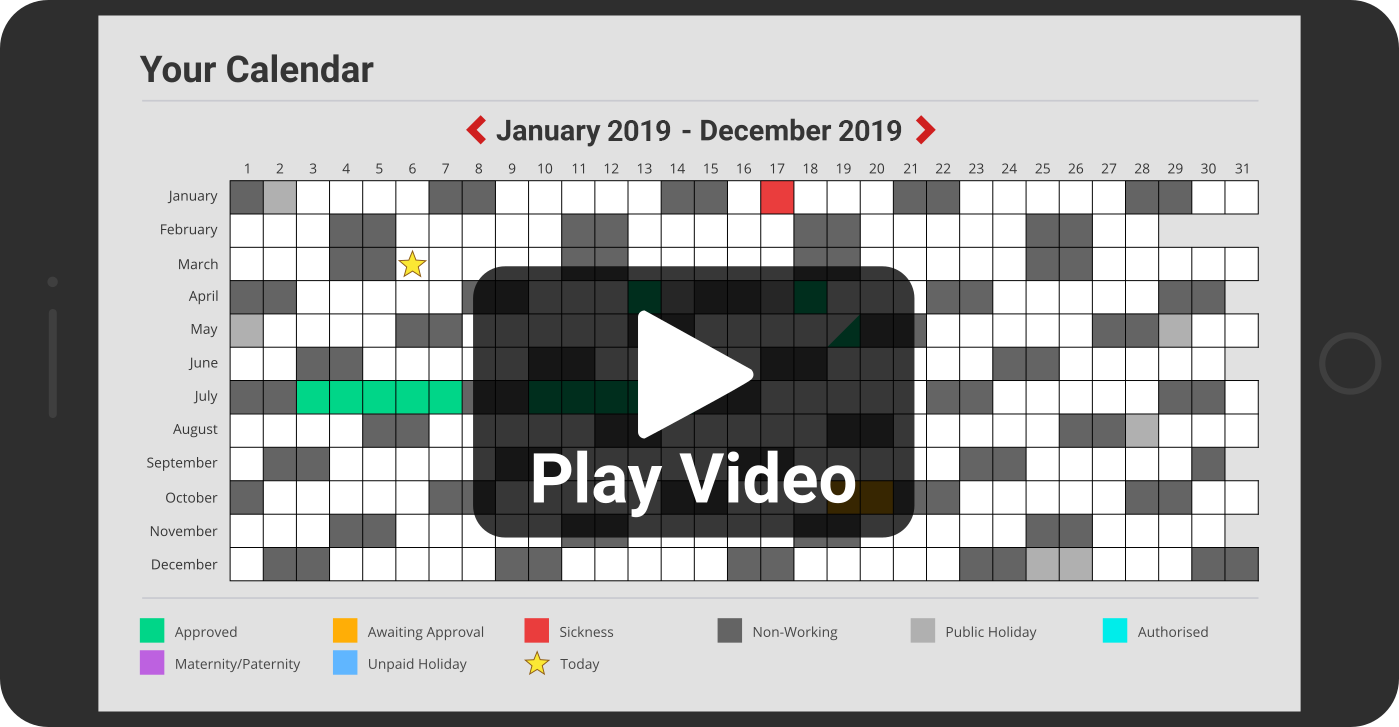 The incredibly simple
employee holiday tracker
If you're currently using paper forms and spreadsheets, then let us show you a better way to manage your employees' annual leave.
Start a 7-Day Free Trial