Photo by rawpixel.com on Unsplash
Maybe you've had a demo of The Holiday Tracker, or have taken our Free Trial for a spin, and you get the value it can bring to your business.  If the next step is to convince your MD, FD or the board, then this article is for you.  We've tried to pull together some of the common questions we get asked into a comprehensive document.  Hopefully you can pull snippets from this article to bolster your own argument as to why The Holiday Tracker is worth the investment.
What is The Holiday Tracker?
The Holiday Tracker is a modern, cloud-based system for managing annual leave. It's a much needed alternative to using paper forms, email, and Excel. It's simple, robust and transparent, and saves time at every level of the business.
Why Do We Need It / What Benefits Will It Bring?
Holidays
Will enable staff to quickly request holidays in an efficient, auditable and transparent manner. Staff can login and view their own holiday calendar and see how much entitlement they have remaining. Holidays can also be requested from a mobile device, so most employees start requesting holiday in their own time.
Sickness
Sickness and other types of absence can also be tracked and reported on. The Bradford Factor is automatically calculated along with Sick Day Heat Maps, so you can easily identify any potential problems with employee sickness and spot any trends.
Administration
The Holiday Tracker provides a range of simple, but powerful reports that can be run in seconds. A lot management or HR teams have their time wasted wrestling with Excel to get answers to simple questions about holidays or absence.  Sound familiar?  Then our reporting features alone could save you hours of work.
Why The Holiday Tracker and Not Something Else?
Flexible
As it's cloud-based and accessed over the web, your employees can access it at ANY time, from ANY-where: remote workers, multiple offices, field-use, or even on their smartphone from their sofa at home.
Adding and removing employees is incredibly simple to do, and cost per-employee-per-month pricing model means the price scales accordingly.
Our 30 days' notice flexible contract means you're not tied into anything long-term. Simply email us with 30 days' notice to end your contract.
Incredibly Easy to Use
Our #1 priority in developing The Holiday Tracker is to keep it super-simple to use. We know that our customers have employees with a range of IT literacy, and having a product that doesn't confuse employees is of paramount importance. We get a lot of feedback from our customers that confirms we're on the right-track with this approach.
Return on Investment
Based upon our research, the average employee makes 10 holiday requests per year. In an average company, around 10 minutes is wasted processing and double-handling each request. In a company with 150 employees that amounts to more than 35 days' worth of wasted work each year. That's equal to £4,104 – less than the cost of The Holiday Tracker for 150 employees.
That doesn't even take into account the time saved at an admin level, managing the whole process and producing reports at the click of a button.
The Holiday Tracker shows your employees how many sick days they've taken, often discouraging them from taking unnecessary time off work. 83% of our customers have also experienced a reduction in sick leave in their first year of using The Holiday Tracker
Is It Secure?
We take the security of your data very seriously. We host The Holiday Tracker and your data with Microsoft, using their Azure platform. We chose Microsoft specifically because of their security pedigree and the protections built into their Azure platform. You can read more about the security of the Azure platform at the link below.
https://azure.microsoft.com/en-gb/overview/trusted-cloud/
Just like Amazon and your online banking, we use industry standard SSL encryption to encrypt all data transferred between you and our servers – look for the padlock in your browser. We also employ encryption-at-rest on the data stored on the servers.
The data in our databases is automatically backed up every 10 minutes, so even in a worst case scenario, 10 minutes of data is all that would be lost.
The security of The Holiday Tracker and the data within it is a key metric we measure as we design, develop and test new features. We use the latest framework releases and follow industry recommended development practices. Advanced automated test suites, combined with rigorous manual testing ensures all new features are robust before any updated code goes live.
Testimonials
We work with customers in a range of industries, ranging from those with 4 employees, to those with more than 1,000. We've recently launched a range of case-studies on our blog where our customers tell you in their own words what they like about The Holiday Tracker:
RMB Automotive
SPF Private Clients
Mammoth
Abatec Recruitment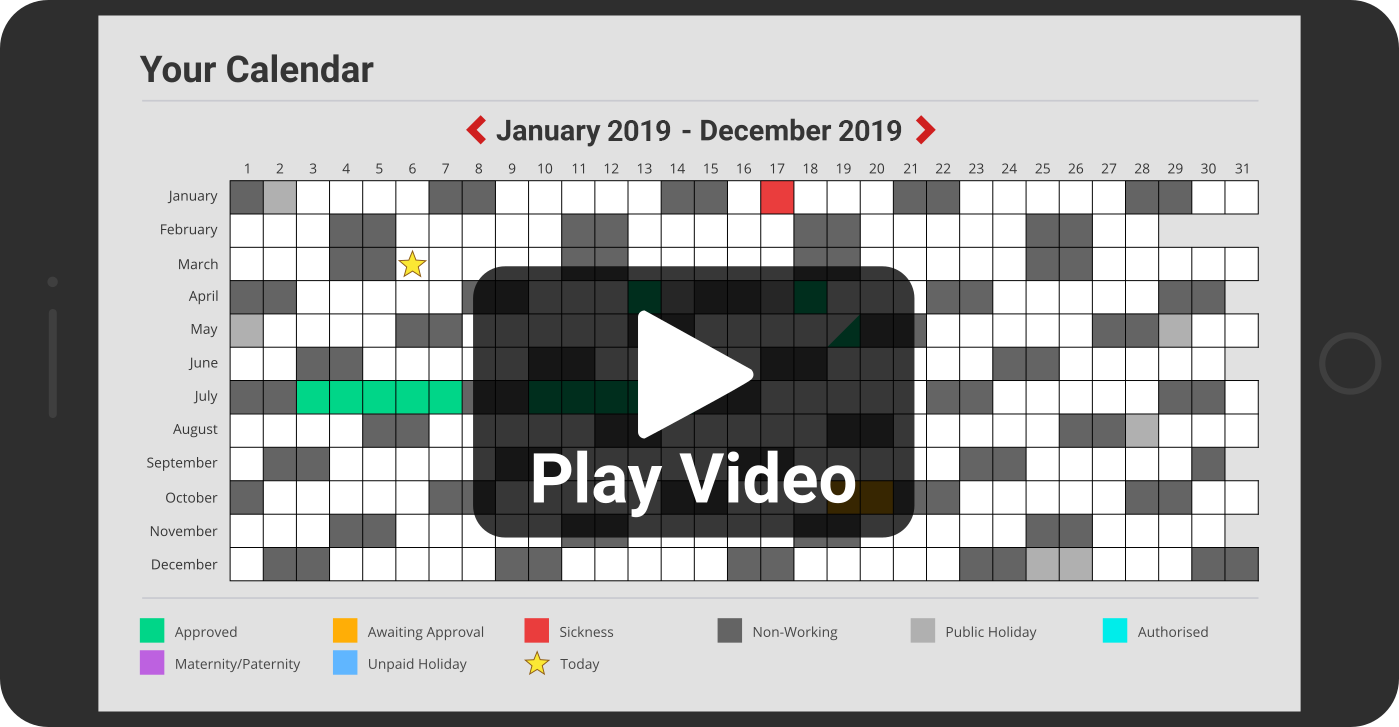 The incredibly simple
employee holiday tracker
If you're currently using paper forms and spreadsheets, then let us show you a better way to manage your employees' annual leave.
Start a 7-Day Free Trial