Employee sickness absence is a cost many businesses could do without, but it's an unfortunate consequence of employing staff and needs to be tolerated to a degree.  The big question is: how much is acceptable?  How do you know if the level of sickness absence your company is experiencing is too high?  The only way to be sure is by tracking and measuring your own employee sickness data.
So Where Do You Start?
Even if you don't think you have a problem with sickness, you should start measuring now.  If you wait until you do have a problem, then you won't have the data to analyse.
The more data you have, and the longer you keep collecting it, the more insightful it becomes.  Once you have a year's worth of data, you can begin to identify trends, and with data spanning multiple years, you can identify if those trends are moving in the right direction.
What to Measure and Record
Each time an employee is off sick, record the start and end date, plus the number of working days missed.  You'll also want to record the reason.  Try to stick to a consistent list of reasons so that later, you can analyse your data by reason.
You can, of course use, Excel to track all of this, or you can use a tool like The Holiday Tracker which is designed for this process. The Holiday Tracker makes it easy for your managers to record employee sickness. It then allows you to easily run analysis reports specifically designed to help you make sense of your data.
Back to Work Meetings
Back to work meetings are usually conducted for long-term sick, but we recommended them for any period of sickness.  The point of the meeting is not to grill your employees or question the sincerity of their sickness, but to ensure you have the correct data and to help you identify any on-going issues.
Burnetts' employment law solicitor Joanne Stronach has written an excellent blog post discussing the advantages of conducting return to work meetings: The Return to Work Interview
How to Analyse
Once you've taken the measurements and amassed a pot of data, the real insights come from the analysis of that data.  There are various angles from which you can view the data, and you should use a combination of them to paint a clear picture.
For each employee:
Total Number of Days Sick – usually measured in a 12 month period
Total Instances of Sickness – regardless of number of days, how many periods of sickness
Average Number of Days per Instance – Total Number of Days Sick / Total Instances of Sickness
Percentage of Working Days – if an employee is contracted to work 252 days in a year and they're sick for 25 days, then the sickness percentage is 10%
Bradford Factor – the Bradford Factor is a score that can be applied to an employee's sickness on a rolling 12 month basis.  Read our Bradford Factor article for more details
Pattern Related Absences – is there a tendency to call in sick on Fridays or Mondays?
For each department or the company as a whole:
Average Number of Days Sick
Average Instances of Sickness
Average Number of Days per Instance
Percentage of employees with zero sickness
When you've built up a data set of these metrics you'll begin to get a handle on what feels right for your particular business. Then going forward, you can compare employees' sickness records to the company averages.
A word of warning though: looking at the figures in isolation isn't recommended.  The figures can be used to highlight potential problems, to detect trends, and to identify the cost to a business.  What they can't do is tell you whether a hardworking, valuable member of your team has had a run of bad luck with genuine illness.  Using sickness absence figures alone to discipline employees is a bad approach to absence management.  The discussions you have in Back to Work Meetings and other consultations with your employees, combined with the figures will help you see a clearer and more complete picture.
Trigger Points
Once you've collected the data and developed a greater understanding of the acceptable levels of employee sickness in your business, you can start to develop trigger points to catch sickness as it approaches unacceptable levels.
Typical trigger points might include:
Number of day's absence in a set period
Number of instances of sickness in a set period
Reaching a Bradford Factor limit
It's important that the actions that are triggered are "soft" rather than "hard".  A trigger point should trigger a meeting with an employee to discuss the problem in greater detail, rather than an inflexible triggering of a warning or disciplinary action.
In Conclusion
To summarise, let's revisit the title of this article and look at the why, how and when of measuring employee sickness.
Why?  Because only by measuring the sickness of your own workforce can you get a handle on what is an acceptable level of sickness absence.
How?  You can definitely get started with an Excel spreadsheet, but you'll have to be vigilant and ensure the data is always accurate and up to date.  Using an online tool like The Holiday Tracker can make the process of collecting the data simpler and more reliable.
When?  Now.  Don't wait until you think you have a problem with sickness, start collecting the data now.
However you choose to analyse, the key is to do it consistently and have the procedure documented in a sickness policy.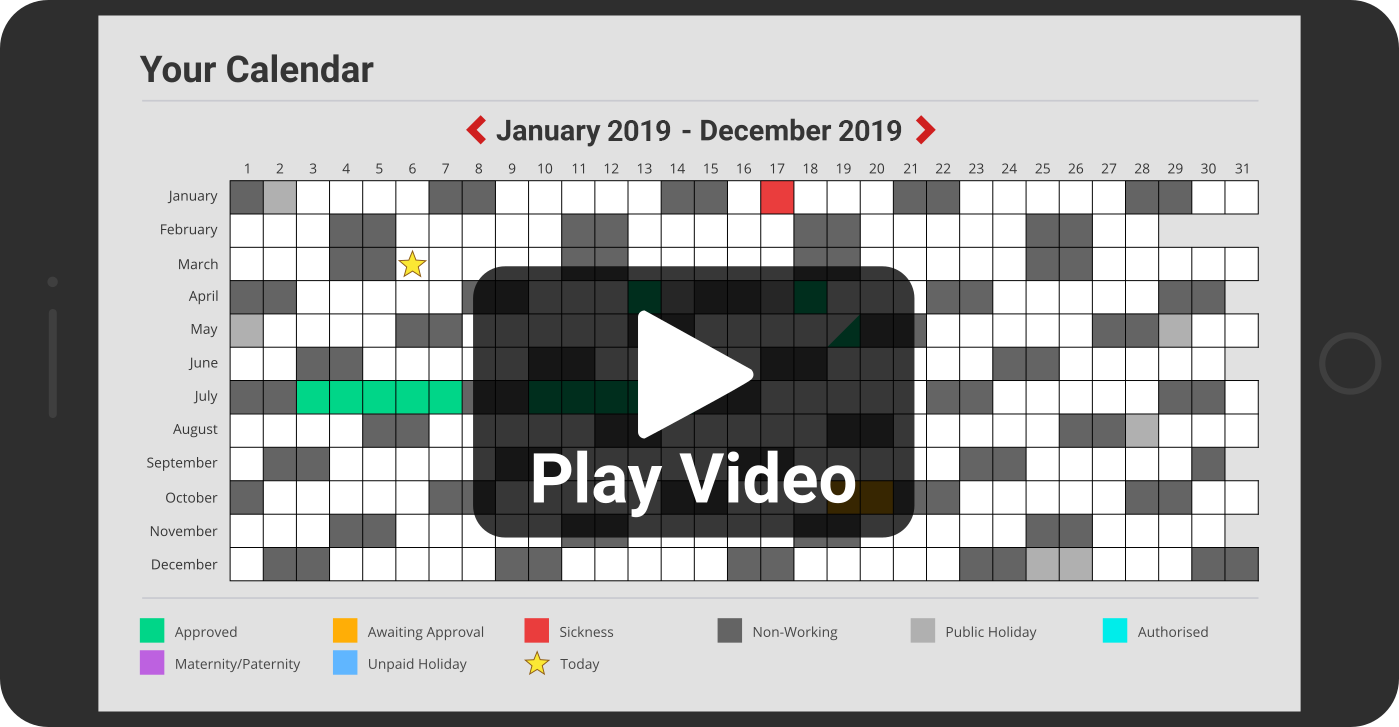 The incredibly simple
employee holiday tracker
If you're currently using paper forms and spreadsheets, then let us show you a better way to manage your employees' annual leave.
Start a 7-Day Free Trial