Earlier this year BrewDog, the Scottish champions of craft beer, announced they are now offering one week's paid leave to employees that adopt a puppy or rescue dog. So for this week's blog post, we decided to delve unusual staff benefits.
Pawternity
Now BrewDog clearly have an affinity for the furry, four-legged friend – not only does their company name contain the word "dog", but their website lists "one dog" as having been an employee since the company was founded in 2007. So it seems fitting that they would choose to offer such a wacky benefit.
It also turns out that it's an incredible PR opportunity. BrewDog announced this unique benefit in the same PR release that mentioned they were opening a BrewDog in Columbus, Ohio.  Guess what? The news went viral!
Weddings
US-based online grocery retailer Boxed are next on the unusual staff benefits list. In 2016 boss Chieh Huang announced they would start paying towards the cost of employees' weddings!
Last year, co-founder Mr Huang announced that he was inspired to start the scheme after discovering one of his employees crying because they couldn't afford to pay for both their wedding AND their mother's medical bills. Thank god for the NHS!
Exact details of the scheme are hard to come by, but Huang says they will reimburse any full-time employee for their wedding up to $20,000. I do.
Marriage Leave
Which leads us nicely into marriage leave. Xerox are one of a handful of US companies offering marriage leave.  Xerox employees are allowed up to three days to "complete wedding arrangements," says Bill McKee a company spokesman. Good to know you can save your actual holiday entitlement for the honeymoon!
It might seem generous to us, but in some countries, marriage leave is a standard benefit. Greece for example, allow employees to take five days' paid leave to get married. Clearly, the passionate Greeks take love more seriously than money.
Duvet Days
Duvet days allow employees to take a day's holiday at short notice instead of "pulling a sickie". We've already done a deep-dive into the benefits of duvet days in a previous blog post, so I'll just leave this link here if you want the details: How Duvet Days Can Reduce Your Sickness Absence
4 Day Work Weeks
Or as I like to call them, 3 day weekends! Chicago-based software developers Basecamp work a 4 day week between May and August. Monday to Thursday, eight hours a day, 32-hours a week. Where do I sign up?
"In general, the same amount of stuff gets done in four days than in five, mostly because when you have less time, you tend to compress stuff out that doesn't matter," says Basecamp CEO Jason Fried.
They have support staff that work 24/7, but they're included too, they simply stagger their shifts so there's always cover. Imagine the possibilities of a 3 day weekend.
Unlimited Entitlement
Quite a trendy one at the minute, Netflix, LinkedIn, and Richard Branson's personal staff have all been given unlimited entitlement. The view here is that it's not important how many days or hours get worked, but the quality of the work that gets done.
In a lot of roles these days, employees are always hooked into the matrix, responding to emails in the evening and doing an extra hour here and there at the weekend. Since these hours aren't being counted, maybe it's only fair that the holidays aren't being counted either.
If you can judge your employees on the work they produce and the value they bring to your business, then maybe you can afford to ignore the actual hours worked?
Obviously these staff benefits aren't feasible to implement at all companies, but hopefully this gives you an insight into some of the more innovative ideas being implemented by companies around the world.
Having generous staff benefits can be a great way to ensure you have a happy and productive workforce. If you're looking for ways to offer a more enticing benefits package for your employees, then hopefully this blog post has given you some food for thought.
Please let us know in the comments what works for you, or if you have found an unusual benefit to offer your staff.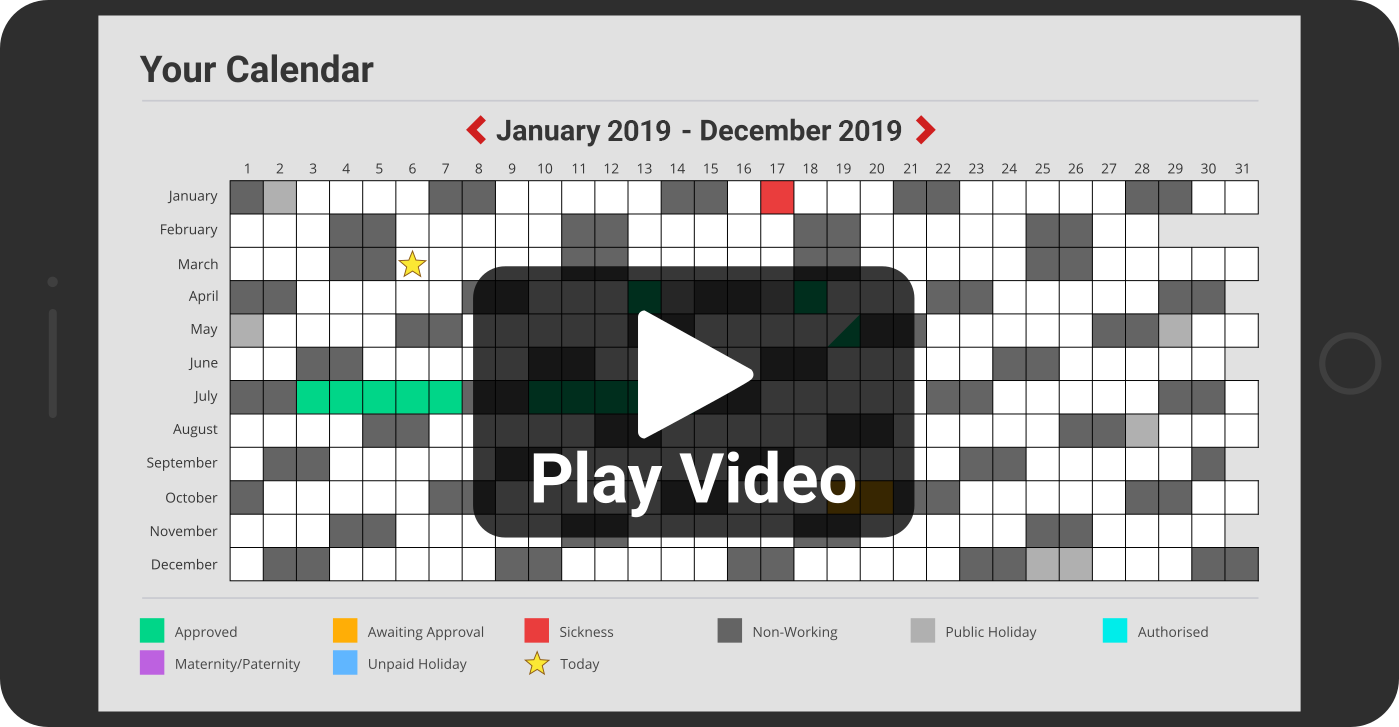 The incredibly simple
employee holiday tracker
If you're currently using paper forms and spreadsheets, then let us show you a better way to manage your employees' annual leave.
Start a 7-Day Free Trial